Pool table moving is our lifeblood. Our expert skills have been handed down through 4 generations, and for over 50 years. We've built an outstanding reputation for safely and quickly removing and relocating pool tables regardless of the property. Challenging moves are our specialty. Stairs, narrow passages, and balconies all present their own set of obstacles for our team to manage your equipment through. Our experience and attention to detail make the difference!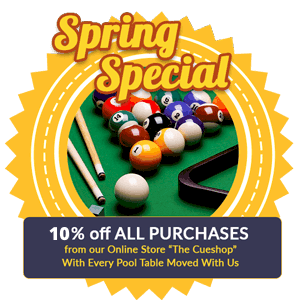 Our relocation team uses specialist lifts, dollies, and pads to tackle stairs, balconies, and others access issues to move your pool table safely. But our best tool is our focus on carefully breaking-down and reconstructing your pool table with such precision that you'd never know it had been moved. We're such perfectionists, we'll break out the digital level to be sure your pool table is perfectly aligned to your exact needs before we leave.
From Lancelin, south to Bunbury and inland to Northam, our experienced removalists have moved Pool Tables all over the wider Perth area and far beyond. Your special Pool Table is fully insured during its move with us, to give you extra peace of mind you know your table is always safe with us.
Pool Table Moving on Your Schedule
Our team is proud to show up on time, get started fast, and move your Pool Table as efficiently as we can. Your move is our top priority, so when your schedule is tight you can count on us for evening and weekend moves too. Thanks to our past customer referrals and reputation for great service, our schedule fills fast, so don't delay! Call or email to book your Pool Table moving today!
How do you move a pool table?
• Here is a video to show you how are team here at Perth Piano & Pool Table Movers take the care with your Pool Table.
Have Questions?
0400-401-603
Have Questions? Need a Quote? We're here to help you get the job done!